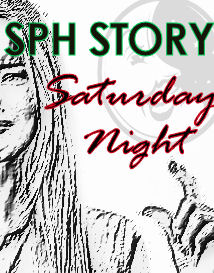 Have you ever read those choose your adventure books, where you get the chance to unravel the story your way? Well what do you think about choose your humiliation stories? These super exciting interactive stories are one of my best selling types of content.
Choose your own humiliation stories involve a little bit of fun and loads of sexy humiliation. In most cases, small penis humiliation. SPH choose your own adventures lead to explosive endings, one way or another.
I make two kinds of chose your humiliation stories. The first type is your classic format, with long passages of my tantalizing erotic fiction with lots of branches for hours of humiliation enjoyment.
The second type of chose your humiliation stories I make is graphic style.  These ones contain images and primarily dialogue based text.
These stories require you to have a niteflirt account to experience because that is the only way I sell them at this time. Maybe in the future I will develop a click through ebook for them, but right now this works very well for me and anyone else who is a fan!
Saturday Night and Megan's Panties are classic format stories featuring a small dick wankers and their adventures. Heaven or Hell, on the other hand,  is a graphic story with sexy pictures to help guide you along on your journey.
Pay to View Choose your Adventure Humiliation SPH Stories you can buy on Niteflirt

Humiliation Vacation
You have been craving a little excitement and culture in your life. Year after lonely year you spend your vacation off from work on your annual stay-cation where you eat lots of Cheetos, play video games till 3am, watch marathons of porno and of course masturbate like a jerk off junkie nonstop. As a result, this year you need something different. You want to do something adventurous. So you walk down the block and enter the local travel agency office…
Heaven or Hell
An unfortunate accident has ended your life a bit prematurely. Then again you're use to things ending prematurely, aren't you, buddy? What's even more unfortunate is the state in which they are going to find your body. Alas, such mortal worries and concerns are behind you now as you… Begin your Afterlife.
Back 2 School
You are a college professor who spends more time jerking off thinking about your students than you do grading their papers. Then one day, one of your hottest pupils asks to see you after class. Hopefully, it's not about her noticing how you constantly check out her ass!
Life's A Beach
Life's a Beach: A Summertime small penis humiliation adventure. You encounter a hot blond on the beach, strike up a conversation, and then get to choose the path to your ultimate humiliation. There is no winning here. Just losing as usual, loser boy. But you should be used to that.
Doctor Visit
Doctor Visit: Fun little game sure to measure up and give you just the right medicine. After you play the game, you can call me for a consultation and to discuss your options for recovery!! If you win, you will be rewarded but if you lose, you get nothing but the best small penis humiliation treatment.
---
I also feature the classic choose your humiliation stories on my sph stories page. Both types are popular with my minions. Which one will you prefer?

Holidays inspire me to make more of these games, so check out my valentines games and halloween games on my  blog.