Humiliation Junkie is my newest recording. It is so awesome! If you like small penis humiliation, then this audio will roast you this thanksgiving. I love making humiliation audios that slice and dice your little cock. It will melt your little degraded heart! People have been asking me when I would make a new sph audio so I  decided to record one on the merits of humiliation addiction. Not only do I point out the obvious about your cock, I point out the fact that you love getting off on humiliation. It sums up my blistering opinion on your worthless manhood. You wont be able to keep your hands off your little wee wee, especially once you come to terms that you are the very definition of humiliation junkie.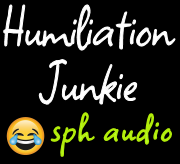 You really can't resist clicking that button. You are compelled to hear me say the words. Buy Humiliation Junkie Now!!
I also offer custom cock ratings via niteflirt, if you want a more personalized small penis humiliation assessment. You can purchase one now, or you can sit around and let the curiosity eat away at you, wondering… What would Size Vixen think of my little pecker.
More awesome humiliation audios in my collection.