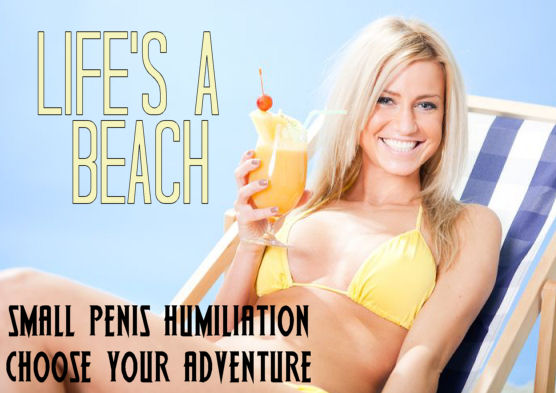 August Heat! Summer Time SPH on the beach?  Yes! With SPH Story: Life's a Beach!!
Can you believe it's August already? The dog days of summer are here and my story Life's a Beach is the perfect story game for those long hot days lounging with your feet in the sand. Although once you are finished with this fun little small penis humiliation story, you will want to bury your head in the sand. Ha Ha!!
In Life's a Beach you are a dorky dude enjoying a day at the beach when a blond beauty lounging in her beach chair on the sand catches your eye. Wait until you see what she has in store for you. Will you score, or will you get burned? Only you will decide!
This puppy is only available on Niteflirt at this time. It is a Pay to View (PTV) Story Game with a choose your own adventure & humiliaton style format.
Buy SPH Story: Life's a Beach today, asap, right now!!


If you are afraid of sharks or sand worms, check out my other choose your humiliation stories for other great beach blanket reads. Or wherever the heck you like to do your naughty reading at.